Resources and An Upcoming Event: Facing Money Challenges While Trying to Launch a Dream Career
Someone posted this on a forum recently:
I am looking at starting my career in teaching photography, various art & crafts and sculpture to children & adults. Also, I do professional photo shoots. It seems that no matter how good my work or teaching is, opportunities just slip away. My entire family is facing financial issues…
I responded:
I truly understand, since I took all sorts of "odd" jobs so I'd have income while co-creating an entrepreneurial lifestyle. Fortunately, I was able to take jobs (freelance and part time) that aligned with my skills, talents and vision. At one point, I had 5 or 6 small income streams at once. It took a lot of organizing and good calendar skills, but I made it work. One of my colleagues was fond of saying I had a portfolio career, and I guess I still do have that to some extent since I still have more than one stream of income. Actually, I guess I will always try to have more than one stream of income. Not only do I like the variety, it also gives me a sense of confidence that something will always be coming in – while one stream might be light, another is steady or even heavy.
Anyway, at first, while my income was like a roller coaster ride, I learned a lot about myself and a lot about money, creativity and flow.
A book that might be good for you to check out (that is, if you're into books like I am!) is Creating A Life Worth Living: A practical course in career design for artists, innovators, and others aspiring to a creative life by Carol Lloyd. You'll find some excellent insights for what you're trying to do – and a variety of goal setting techniques that you can use depending on your style. Her chapter, "The Drudge We Do For Dollars: Day Jobs," might be particularly helpful.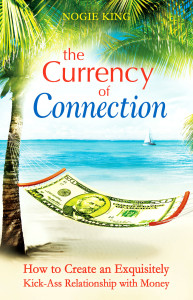 Another book recommendation…
I've been reading Nogie King's new book, The Connection of Currency: How to Create an Exquisitely Kick-Ass Relationship with Money. What she says about abundance is eye-opening and a bit radical compared to what I've thought about money and abundance up to this point. In fact, she recently sent out this email/letter to her mailing list today in case you want to check it out – she talks about "why abundance is not the goal": http://eepurl.com/BcK4P
So, maybe the concepts she teaches would be helpful to you as well. You can check out her book (it's on Amazon) or you can sign up for the free telecass we're doing together next week. Even if you can't make it to the program live, you can sign up and get access to the recording later.
Post-Event Note:  Access the recording of this teleclass at http://insyncresources.com/resources/mindopeningdialogues.html
__________________________________________________________
Angela Loëb helps people rediscover and use their gifts so they bring who they are to what they do in life. http://about.me/angelarloeb
_________________________________________________________