7 Ways To Move Through Grief: Distractions
Article #4 in a series of 7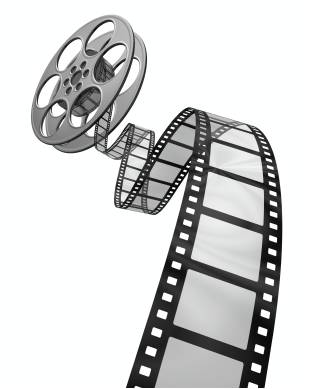 December 15, 2014 marked the 75th anniversary of the 1939 Atlanta premiere of Gone with the Wind. I attended a special sold-out showing of the movie that night at the historic Paramount Theater in downtown Austin.
It was a thrill to see the entire 4-hour movie on the big screen from start to finish in one sitting (with a 30-minute intermission, of course!). It made everything in the film more vivid and bigger than life, especially that famous closing scene – the one where Scarlett O'Hara is told by Rhett Butler that he's divorcing her. She cries out, "Rhett, if you go, where shall I go? What shall I do?" and he answers, "Frankly, my dear, I don't give a damn."
And then after Rhett leaves, Scarlett sits on the staircase wondering what she will do next. At one point she says aloud, "Oh I can't think about this right now! I'll go crazy if I do! I'll think about it tomorrow."
In addition to appreciating this climactic moment with 1200 others in the theater, I found myself nodding my head thinking, "Yes, I sure can relate to that."
In this article series, I've written about several ways to cope with grief, the last one being about journaling as a form of writing therapy. These things helped me move forward after the breakup of my own marriage. But sometimes I haven't wanted to write about it, talk about it, or think about it. I can definitely identify with Scarlett's desire to think about it tomorrow because sometimes you feel worn out from the heaviness of having to rearrange your life and from trying to come to grips with your feelings of loss. You just want to forget where you are and what you are having to do to process everything.
In the beginning, I wasn't sure exactly how to suspend that heavy feeling, however I promised myself to find healthy ways to do it. While casting about for an answer, I found an article that confirmed my belief that having distractions was actually a good way to move through grief. In "Emotional Coping And Divorce" Mark Dombeck, Ph.D. & Kathryn Patricelli, MA point out that "Sometimes it's not enough to write or talk about how one is feeling. In such situations, being ready and able to distract one's self can be helpful." They explain that distractions "can get one's mind away from painful feelings that otherwise might drag out into depression."
A Few Of My Favorite Things
As you might have guessed already, on my list of favorite distractions is watching movies. Ever since I was a kid, I've loved watching movies almost as much as I've loved reading. Seeing my interest, my parents gifted me with books on the subject, which satisfied two of my passions in one fell swoop. I even took film classes – one in high school and two in college. Learning the trivia behind the making of popular movies is interesting, but I'm mostly fascinated by the multiple aspects of film as entertainment and as a medium for art, music, literature, and philosophy.
Even though I enjoy watching movies alone at home or at the theater, this is an activity that usually simultaneously covers another one on my list of favorite things to do… having fun with friends. I didn't go alone to see Gone with the Wind and then a few days later an exhibit at the Harry Ransom Center at the University of Texas called "The Making of Gone with the Wind." Nor was any of it my idea. It was actually my friends, Todd and Cindy, who convinced me to go.
I'm fortunate that my daughter and I have so many shared interests, too. Some of my favorite outings with her during the past 8 months have included camping on the Guadalupe River, hiking at Enchanted Rock (which crossed off one of the items on my bucket list!), visiting some wonderful museums in Houston, and attending the opening day of the Renaissance Festival in Plantersville. And, yes, she's my favorite movie companion, too. She was there with us for Gone with the Wind – her first time to ever see the movie.
Helping Others
My work entails helping others move through their transitions, and it's hard to put into words just how useful this was in helping me to move through mine. I think Booker T. Washington came closest to expressing what I mean when he said: "If you want to lift yourself up, lift up someone else."
Ultimately, I think it's about working on something greater than myself… and my troubles. There's something about the feeling you get when you work on something greater than yourself that gives you a sense of fulfillment. Most of us crave this feeling. After almost 25 years of helping thousands and thousands of people articulate and achieve their dreams, I can state with confidence that most of us want to make a difference in the world in some way. I'm no exception.
So, in spite of the grief, I still have that underlying purpose, and connecting to that definitely distracted me and helped me move through the most challenging moments.
Leisure Activities and New Interests
A very important step I took fairly early on was to make a list of what I enjoy doing and what new interests I'd like to explore. It might seem trite to bake bread, bury yourself in a fantasy novel (I'm on the third book of the Game of Thrones series now), research recipes for Mediterranean dishes, and make collages, but it's not really when you consider how useful having distractions is for moving through grief. Balance is necessary. Having too much focus on downward spiraling thoughts and feelings is unhealthy and out of balance.
Pursuing new interests and making time for creative activities helps to counterbalance depression. However, I've learned that creative acts which require deep thinking, like writing, can be difficult to do when you're grieving. I had trouble writing anything other than personal journal entries. That's when I realized that not all types of creativity function well as healthy distraction.
Here's an insightful observation by Carrie Barron, M.D., author of The Creativity Cure, regarding the use of creativity in this way:
Too much thinking at the exclusion of physical and manual activity can make us depressed. Physicality, creativity and using your hands — cooking or washing cars or crafting, painting walls or using watercolors — honor anatomical intent. Long ago manual action in everyday life was necessary for physical survival. Now we need these actions for psychological survival.

The need to create is primal. Paint a wooden board or do Legos with your child. Do that thing you were always drawn and do it clumsily, imperfectly. You don't have to have any experience as an artist or a maker of things. You don't have to have a fine result. You can just explore, begin and build. The beauty is in the inner experience. Research has shown that meaningful hand use decreases depression.
(Source: "Can Creativity Help You Heal From Depression?" by Dan Lukasik)
When I read that, the proverbial light bulb went on. No wonder I couldn't bring myself to write creatively, but I could create a collage and feel like I was making forward progress toward healing.
Next Up – Structure
Coming up next in article #5, we'll look at how structure and establishing routines help you move through grief, especially in the beginning stages when your feelings are a jumbled mass of chaos.
Click HERE to read part five, 7 Ways to Move Through Grief: Structure.
__________________________________________________________
Angela Loëb is into self-development… learning it, teaching it, and supporting others who do too.
More at http://angelaloeb.com
__________________________________________________________