Fun Way To Visualize Your Future
Here's an exercise that I teach with my colleague, Jay Markunas, in the third module of The CareerFinder™ Method program.  We developed this program to help people with their career direction and planning.  But I have found this to be a good all-around exercise for creating a personal vision.  It's not just about your career.  It's about what you want for your whole life – every aspect of it.
100th Birthday
Imagine it's your 100th birthday – congratulations and happy birthday!  Your loved ones have gathered to celebrate your wonderful life.  There's a great big cake, colorful balloons, and even silly party hats.
Have some fun describing the major accomplishments and the legacy of your life.  I encourage you to embellish and express your story in vivid details.  This has been your life lived on purpose!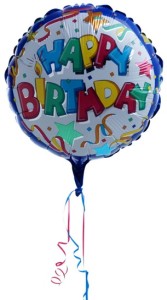 Here are some questions to spur you on:
What have you done professionally?
What have you done personally?
Where have you traveled?
Where have you lived, and what has your lifestyle been like?
What kind of mark have you made?
__________________________________________________________
Angela Loëb helps people rediscover and use their gifts so they bring who they are to what they do in life. http://about.me/angelarloeb __________________________________________________________